Japanese Traditional Inn KAMINAKA is situated in the heart of Hida Takayama, known as Little Kyoto, which cultivated its unique culture in a region surrounded by mountain peaks rising to 3000 meters and bound in winter by deep snow. This long-established traditional inn was built in 1888. The inn's name, Kaminaka, is derived from the name of its founder whose spirit of hospitality has continued on to the present. Due to efforts to preserve the purely Japanese architectural style which has remained unchanged since it was first built, the building has been designated as a registered tangible cultural property of Japan. The exterior of the inn features traditional Japanese lattice doors. Walking through the entrance, the scent of Japanese tea incense fills the air, and the stairs, pillars and ceiling of the interior all exude an old world charm, a reflection of its history and wooden structure dating back over 120 years. In the center of the inn is a Japanese garden, ever-changing with the seasons, awaiting your arrival. Please come and stay at our timeless inn where you can enjoy the traditional charm and atmosphere of Japan.
Tangible Cultural Properties of Japan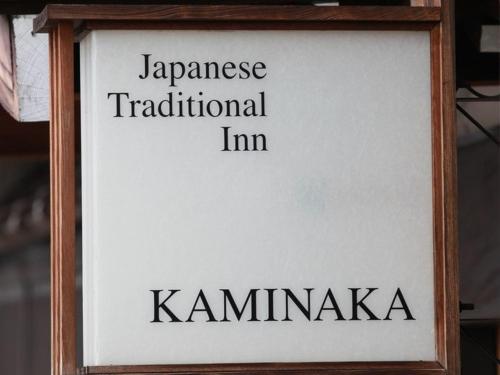 They were designated as registered tangible cultural property. Kaminaka-Ryokan is typical building of red-light district in the old days. Most interior were remodeled, however there are many parts leaving untouched.
Check in 4:00pm
Check out 10:00am
Tax and other charges 8% consumption tax
Type of architecture A2-story wooden building
Accommodation 35persons
10Rooms Japanese-style room
Room facilities yukata(Japanese pajamas), bath towel, face towel ,shampoo, rinse body shampoo, toothbrush, razor, soaps,dryer, slippers, televisions
Facilities Vending machine(soft drinkl), Public telephone
Bathroom 2 Public bath (4-10p.m.&6:30-9:00a.m.)
Nearby attractions Temple,shrine,folk-claft,shopping
Car pool free
Attention Sorry, cash only. We do not accept credit cards or travellers' checks;